Empower customers, drivers, depot workers, dispatchers, planners, team leaders, business analysts, customers service and others. Give them real-time information, instructions, guided workflows tools and more to make your logistics chain more efficient, accurate and sustainable.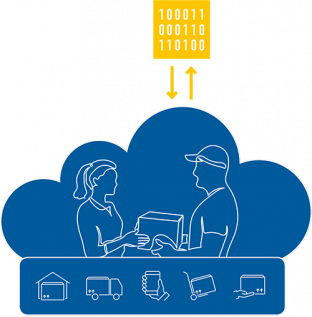 Trimble Smartdelivery is a logistics software that makes it easier for your field staff to interact directly with your backend systems. It helps eliminate wasteful admin, optimise resource utilisation and improve customer experience by providing timely and precise information and instructions directly in the device.
The software suite is available in different configurations depending on your needs.
COURIER, EXPRESS & PARCEL
Orchestrate every step in the delivery chain. Leverage data to improve handling of delivery, collections and returns.
TRANSPORT & LOGISTICS
Leverage your operation with real-time insight. Leverage data to effectively manage drivers, tools, teams and customer expectations.
WHY TRIMBLE SMARTDELIVERY

OUT-OF-THE-BOX
Short time to market, with pre-configured logistics workflows and functionality, based on industry best practice.

FIELD-PROVEN
A global experience, proven by more than 170,000 users, spread across a secure infrastructure, reducing the risk.

INTUITIVE USER EXPERIENCE
A mature and refined mobile user experience, which has evolved to ensure reduced training times for all users.

DESIGNED TO FIT
An extensive and configurable platform, enabling a close fit to existing processes and swift deployment for new concepts.

EASY INTEGRATION
Extensive and intuitive integration options, including pre-built integrations to existing partner software and services.

SCALABLE
Supporting your business growth through powerful software add-on capabilities, and a vast partner network for hardware.