TRIMBLE SMARTDELIVERY
Trimble Smartdelivery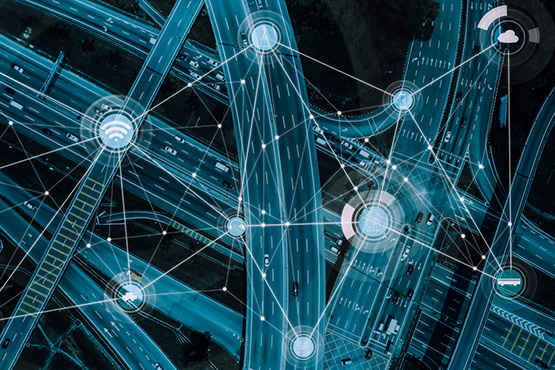 KEY USERS
The receiving customer receives notifications about deliveries and can communicate changes directly to the transport company.
The driver gets today's manifest, including detailed task instructions, and can perform compliance checks in a simple format.
The depot worker gets instructions on how to load a specific vehicle in an optimised route sequence.
The dispatcher is provided with the overall picture, and can simply drag and drop to assign dispatch jobs to routes and drivers.
The office worker can use the business intelligence tool to analyse the operational data and understand where improvements can be made.
Operational efficiency
Job management, creation, optimisation & scheduling
Workflows for optimised loading and delivery
Barcode scanning, sign, pin code and photo proof-of-delivery
Detailed work instructions
Guided workflows and messaging tool
Customer satisfaction
Let the receiver guide the freight
Alert the receiver about the upcoming delivery
Provide accurate and updated ETA
Give the receiver time to react and update the driver in real time
Change delivery preferences or divert to a different location
Reduce the number of unsuccessful deliveries
Commitment & compliance
Turn-by-turn navigation
Fit-for-duty forms
Vehicle inspections and safety checklists
Web map to find drivers and see historical routes
Driver commitment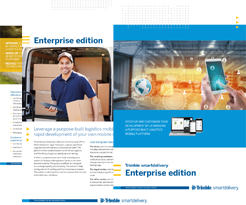 ENTERPRISE EDITION
BROCHURE
DOWNLOAD
Download
WORKFLOW EXAMPLE

WHY TRIMBLE SMARTDELIVERY

OUT-OF-THE-BOX
Short time to market, with pre-configured logistics workflows and functionality, based on industry best practice.

FIELD-PROVEN
A global experience, proven by more than 170,000 users, spread across a secure infrastructure, reducing the risk.

INTUITIVE USER EXPERIENCE
A mature and refined mobile user experience, which has evolved to ensure reduced training times for all users.

DESIGNED TO FIT
An extensive and configurable platform, enabling a close fit to existing processes and swift deployment for new concepts.

EASY INTEGRATION
Extensive and intuitive integration options, including pre-built integrations to existing partner software and services.

SCALABLE
Supporting your business growth through powerful software add-on capabilities, and a vast partner network for hardware.